mechanism packaging design,mechanical design / electronic circuit design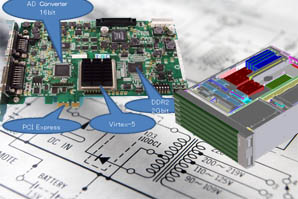 We contribute to our clients through our customized development service for mechanism packaging design, mechanical design (3-dimentional CAD design), and electronic circuit design (digital, analog, and FPGA).
As for the design of mechanism and mechanical products, we are capable of designing electronics, production plant equipment, robots and may more on a customized basis making full use of 3D CAD.
The 3D CAD systems we have include CoCreate OneSpace Modeling, Autodesk Inventor, and SolidWorks.

In the designing of electronic circuits, we specialize in designing a variety of circuits including both digital and analog ones. In addition, we also develop and design semiconductor chips, FPGAs (field programmable gate arrays) and CPU-based electronic products.